That was the best art pun I could make with my user name XD
I am hoping to make this my art thread. Some will be old pieces I'm rediscovering and want to share and others will be new works inspired by the show and it's fandom. First I think I'd start this off with an oldie: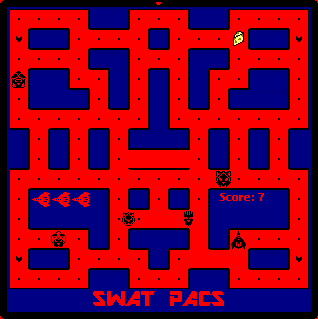 On making new smilies, I had cause to look back on some art I made for a challenge from a now (sadly

) defunct art based RP. I forget the exact challenge, only that it involved Cheese somehow

but I made this gif with the Turbokat flying around the city with four of the show's badguys chasing after it. When collecting the SWAT symbols, it changed the badguys into their more manageable underlings and makes the Turbokat speed up. Dark Kat in to a Creepling, Viper into his Monster Mushroom I call Clive, Turmoil into one of her Pilots, PastMaster into a Giant Mummy and MadKat into... those ... little MadKat bouncy balls.
I did have to edit this from how it was orginally. The flashing in the past was much quicker but I felt it might be too fast and I don't want people to feel uncomfortable with flashing images.

Hope it's all okay in that reguard.